Woodsoak Wines 2022 Autumn Newsletter
Posted on
Autumn has arrived.
So has our latest vintage and our new caravan bar!
…
Our new batch of vintage Methode Traditionelle Sparkling Wines have finally arrived. It's time to cozy up with a glass of these delicious drops 🙌
After handpicking Pinot Noir grapes 🍇 from our vineyard, this new release of Blanc de Noir 2017 has been happily fermenting for 48 months. With its alluring hint of Indian gold, fine bead, floral aromas & rich brioche flavours, this gem can be enjoyed with any food, any time of day or enjoyed as an aperitif!
Our Sparkling Shiraz 2019 has been in bottle for 20 months and is affectionately termed "Christmas in a Glass" due to its robust flavours of spiced plums, cherries and red currants. With many layers to be explored, it is utterly delicious! A must-have for any northern hemisphere ex-pats gearing up to celebrate Christmas in July.
Thank you to our Soakers Club members who have been patiently awaiting this release. You should have just received your latest order. We hope you enjoy it as much as we do. 🤩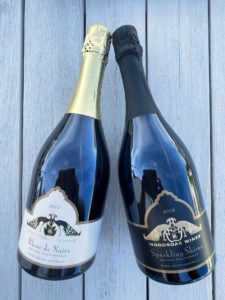 …
Introducing the Woodsoak Wines Limoncello Caravan Bar
We were excited to start a new chapter in the Woodsoak Wines story earlier this year when we purchased the Limoncello Caravan Bar. This exciting new venture means we can take the delicious taste of our award-winning wines to people all over the Limestone Coast.
Featuring stunning timber benchtops, a large servery window with bi-fold shutters and pendant lighting, the Woodsoak Limoncello Caravan Bar is a stylish backdrop for any event.
During the school holidays, we were kept busy pouring delicious Zaahira Kiss 💋, Pinot Sangria 💃🏽 and Lady Limoncello 🍋 cocktails from our stunning Caravan Bar. Keep in touch to see what delicious treats we have lined up for the July school holidays!
 You can learn more about the caravan here, and view some pictures of it in action over on the Limoncello Caravan Bar Instagram page. If you'd like to hire it for your next event, please call Sonia on 0437 681 919 or email sonia@woodsoakwines.com.au for a tailor-made package.
…
Harvest time is upon us
We've been very busy with our recent harvest, and it's not over yet. The first half of the grape growing season was cool and dry, which is good news for vintage wine lovers. These conditions are ideal for producing high-quality wines with a lighter, crisper body. We've picked the Pinot Noir grapes for our Zaahira Sparkling, Rani Rosé and Pyaar Pinot Noir.
Then the heat turned up for the second half of the season, ensuring the grapes ripened nicely, making this the perfect time to hand-select and pick the Shiraz grapes for our Raj Shiraz and Methode Traditionelle Sparkling Shiraz.
We're still patiently waiting for the Cabernet Sauvignon grapes to ripen to ensure our Vijay Cabernet Sauvignon is full-bodied, rich coloured and full of the flavour it is renowned for.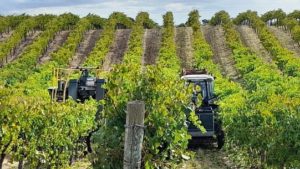 …
Are you after a tasty treat to take the chill off the cooler autumn evenings? Use code AUTUMN22 for a 10% discount when placing your next online order.
…
May – September opening hours
Wed – Sun
Public Holidays
School Holidays
11am – 5pm
We look forward to welcoming you!
…
Thank you
Thank you so much for your continued support. We truly are grateful that we get to do what we love while delivering you the delicious tastes of the Limestone Coast.
And as always, a special thanks to our loyal Soakers Club members.
Those of you not wanting to miss out on the latest delicious Woodsoak Wines, please visit our Soakers Club page or contact us for more information on how you can enjoy our exclusive prices and free freighted Woodsoak Wines twice a year.
Enjoy the upcoming cooler months around the fire, sipping a warming Woodsoak red or two.
Cheers!
Will, Sonia, Vijay, Raj, Rani, and 🐕 Molly Legoe