Cabaret comes to Robe! Join us for a night of fun
Posted on
Love the fun and vibrancy of a Cabaret show? Then you'll want to head to Woodsoak Wines this March.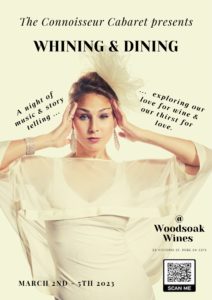 We're so excited to host the extremely talented Jane Matheson and Maroussia Vladi from The Connoisseur Cabaret as they present their theatrical masterpiece, Whining and Dining, right in the centre of Robe.
If you're looking for a unique way to spend an evening under the stars, love theatre and appreciate a fine wine (and a whine), you must join us at our Cellar Door for an evening of music, storytelling and laughter.
Playing over three evenings and one matinee session from Thursday, March 2nd to Sunday, March 5th, you'll be wowed and captivated by the talent before you.
Enjoy the flair of cabaret while relaxing in our unique outdoor space
Join us for an interactive and musical wine tasting brought to you directly from Melbourne. Hear your favourite jazz tunes performed by the musically talented Jane Matheson whilst Maroussia Vladi hypnotises you with her favourite love stories — most of them true. They're guaranteed to have you toe-tapping and giggling along.
Settle into our magical garden setting for this unique performance while enjoying an interactive wine-tasting and grazing table. Wine and cocktails will be available for purchase from our Limoncello Caravan on the night.
Show times
Thursday, March 2nd 7 – 9 pm
Friday, March 3rd 7 – 9 pm
Saturday, March 4th 7 – 9 pm
Sunday, March 5th 3 – 5 pm
Limoncello Caravan Bar open from 6pm until late and on Sunday from 2pm.
Venue
Woodsoak Wines garden
20 Victoria Street
Robe SA
Price 
$70 per person includes a wonderful 2 hour show including an interactive wine tasting and a grazing table. The Limoncello Caravanbar will be open from 6pm until late to purchase glasses of wine. 
You can book your tickets here or by scanning the QR code on the images. Drop Sonia an email at sonia@woodsoakwines.com.au if you have any questions.
We look forward to welcoming you to this fun, relaxed event!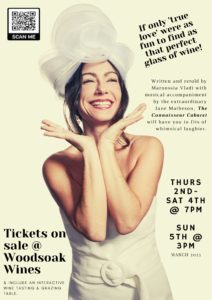 Other Limestone Coast events in summer 2023
Can't make it to Whining and Dining? Check out 7 Reasons to visit the Limestone Coast this Summer to find other events happening around the Limestone Coast.