2021 — a year of revamps, awards and new additions at Woodsoak Wines
Posted on
Another busy year shows no sign of slowing as the Robe wine region heads into a vibrant summer season.
We've had a corker of a year and as the weather warms up, we are looking forward to another busy summer season. As we look toward 2022, we're still trying to catch our breath from a year full of exciting achievements and transformations. Our indoor wine lounge and outdoor seating area received a revamp, we added some new merchandise to our brand, lovingly welcomed a new addition to the Legoe family, received some medals, and welcomed a new member to Team Woodsoak. This is on top of doing what we do best — looking after acres of vines so they can do what they do best — grow bunches of glorious grapes destined for our next delicious vintages!
Our Cellar Door receives a facelift
Our Cellar Door underwent a revamp with the addition of a cosy colourful lounge in our indoor wine room and gorgeous peacock blue bar stools adorning our outdoor seating area. Now you can be even more fashionable and comfortable while enjoying some summer sipping and samosas.
Make sure you visit us to check out new space on your next trip to Robe.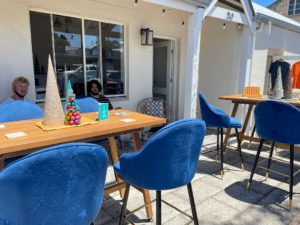 Our sparkling new wine cups
Our hot pink wine cups have certainly become a popular addition at our Cellar Door. Adorned with our signature Woodsoak peacock, these beauties are an essential addition to any picnic basket.
Wine cup features:
300ml
Double walled
Vacuum insulated for maximum chill factor
Stainless steel
Cordia (BPA-free) tight-fitting push-on lid
Pretty and functional! Make sure you add one to your next order when you visit our Cellar Door.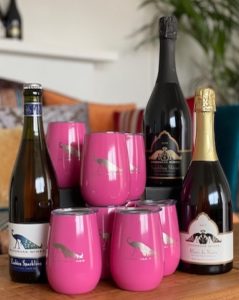 We welcome a new member to the Legoe family
Earlier in the year our hearts were captured by the newest addition to the Legoe family, Molly. Miss Molly bounced (and licked and chewed) her way into our hearts and our family is all the richer for the joy and love she brings us.
                        Molly is regularly on duty at the Cellar Door so if you haven't already, make sure you say hello and give her a pat next time you visit.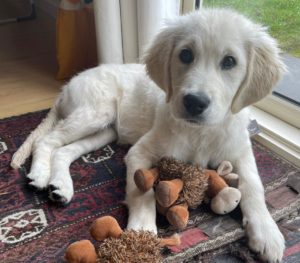 We say hello to a new staff member
We recently welcomed a new recruit to Team Woodsoak, Andrew, who will be a fabulous addition to Team Woodsoak anyone recognise him from reality tv? We'll give you a hint: he was given a rose and impersonates David Attenborough beautifully!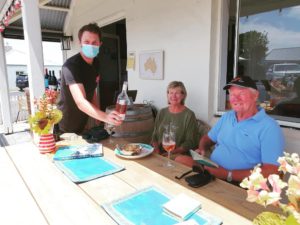 Our latest award winners
This year has been a big year for awards.
We were honoured to receive 3 awards at the recent Australian & New Zealand Boutique Wine Awards. Our Santi Sauvignon Blanc 2021 received silver and our Rani Rose 2021 and Vijay Cabernet Sauvignon picked up bronze. The Australian and New Zealand Boutique Wine Show was developed to celebrate smaller, independently owned wineries who crush no more than 250 tonnes. It was so lovely to be recognised in this distinguished field.
These awards are on the back of our award winners at the Limestone Coast Wine Show, where we picked up 4 medals including GOLD for our Zaahira Sparkling! Our Santi Sauvignon Blanc 2021, Blanc de Noirs 2017, and newly released Sparkling Shiraz 2019 received bronze.
Of course, we couldn't have achieved this without our talented winemakers Peta & Dan. We are so lucky to have them as part of Team Woodsoak.
Check out our award-winning wine and place your order to have it delivered straight to your door. Join our Soakers Club for exclusive prices.
Wishing a merry Christmas and a happy and safe festive season to all our visitors and supporters
Thank you to all who have visited from near and far this year. We have loved seeing your smiling faces, hearing all your adventures, and sharing our wine with you. And thank you to those who couldn't join us but supported us through online orders. And of course, a special thanks to our Soaker Club members for your continued support.
We wish you and your loved ones a happy and safe festive season and would love to see you at our Cellar Door over summer. We're open 7 days from 11 am serving wine and samosas all day so why not grab some friends and pay us a visit!
Cheers,
Will, Sonia, Vijay, Raj, Rani and Molly Legoe