Festive Wishes from Woodsoak Wines in Robe
Posted on
As we hurtle towards the festive season, we wish you all an abundant amount of Woodsoak cheer! It's been a busy year, and there's no sign of letting up. There's plenty happening at Woodsoak Wines in beautiful Robe, and across the Limestone Coast.
Our Limoncello Caravan Bar will be open throughout summer
Of course, the number one thing you must do when you visit the Limestone Coast is to come and visit our cellar door in the heart of Robe. There's nothing we enjoy more than entertaining you in our family friendly outdoor spaces. Soak up the holiday vibes and join us for live music, games for the entire family, free tastings, wines by the glass, samosas and of course, our signature cocktails in a relaxed, friendly environment.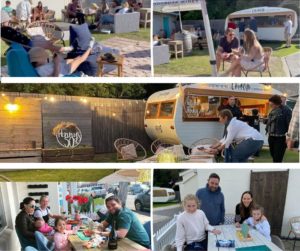 Can't make it to the Woodsoak Wines cellar door?
Here's a special discount for you:
Join in the Woodsoak fun online and stock up on all your Christmas fizz and wine requirements. Make the most of this special:
Use the code PEACOCK20 when ordering online to receive 20% off until 15th December 2022.
Have a look at our range of wines, select your preferred drop (6 or 12 bottles), enter the code at check out and within no time, you'll have a supply of delicious Woodsoak Wines delivered to your door. But be quick, last day to order to ensure delivery before Christmas is 15th December (please allow a little extra delivery time due to the busy time of year).
Limestone Cost events you won't want to miss
Late Night Shopping and Christmas Tree Lights 2022
Friday 2nd December 11 – 8pm
Sparkling & Samosas 2022
Sunday 4th December 3 – 6 pm
Robe Christmas Parade 2022
Sunday 18th December from 4.30 pm
Cape Jaffa Seafood and Wine Festival 2023
Sunday 8th January 10am – 6pm
Robe Marathon 2023
Saturday 11th February
Spirit of Robe Festival 2023
Saturday 18th and Sunday 19th February
South East Field Days 2023
Friday 17th and Saturday 18th March
Whining & Dining 2023
Thursday 2nd March – Sunday 5th March
 Head to our post on the 7 Reasons to visit the Limestone Coast this summer for more details on each event.
It was another corker year for awards.
It takes great commitment to successfully convert a bunch of grapes into a medal-winning bottle of wine, and we are lucky to be working alongside a fabulous team. We were both ecstatic and humbled to receive medals at these Wine Awards held during the year:
Australian Sparkling Wine Show 2022
Blanc de Noirs 2017 and Sparkling Shiraz 2019
ANZ Boutique Wine Show 2022
Zaahira Sparkling 2021
Pyaar Pinot Noir 2021
Raj Shiraz 2021
Limestone Coast Wine Show 2022
Zaahira Sparkling 2021
Santi Sauvignon Blanc 2022
Mayur Chardonnay 2022
Rani Rosé 2022
Pyaar Pinot Noir 2022
Raj Shiraz 2021
Vijay Cabernet Sauvignon 2021
Sparkling Shiraz 2019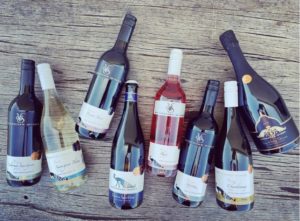 Robe celebrated as one of the 50 Best Aussie Towns in Australian Traveller magazine
We were honoured to receive a mention in the Australian Traveller Magazine and thrilled that Robe has been celebrated as one of the 50 Best Aussie Towns. Thank you to Fleur Bainger for her kind words:
"Woodsoak Wines convivial cellar door… people cluster outside the corner property, wine glass in hand and conversation on the lips… an antique wooden bar is rolled out to the courtyard each day… 3 of the 10 wines are named after the owner's children… you can't help but want to be there…"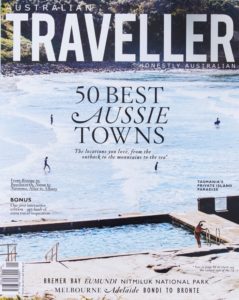 And again, it's always a privilege to be mentioned in the 2022 edition of SA Life Food + Wine + Travel Magazine. Make sure you pick up a copy to read this year's write-up!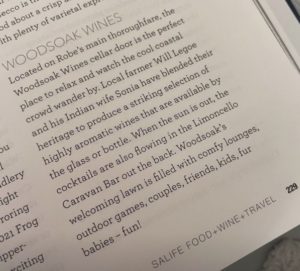 Vijay Cabernet Sauvignon – a bold and vibrant red with a cause
Thank you to all our red lovers who continue to support us and Arthritis SA with every purchase of Vijay Cabernet Sauvignon. Juvenile Arthritis and the work that Arthritis SA carry out is a cause close to our heart. As such, we donate profits from our Vijay Cabernet Sauvignon sales to Arthritis SA. We look forward to continuing our long-term relationship into 2023 and for many more years.
And finally … thank you
Thanks for supporting our wee business this past year. It fills us with joy to welcome people from near and far to our cellar door. We've loved meeting every one of you. For our friends who couldn't visit us, thank you for supporting us with online orders and lovely social media comments and reviews. Lastly, of course, we have great appreciation for our Woodsoak Team and the passion they bring to Woodsoak Wines. We couldn't do this without you all!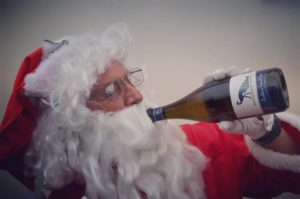 We wish you and your families a happy and safe festive season.
Cheers,
Will, Sonia, Vijay, Raj, Rani and Molly Legoe